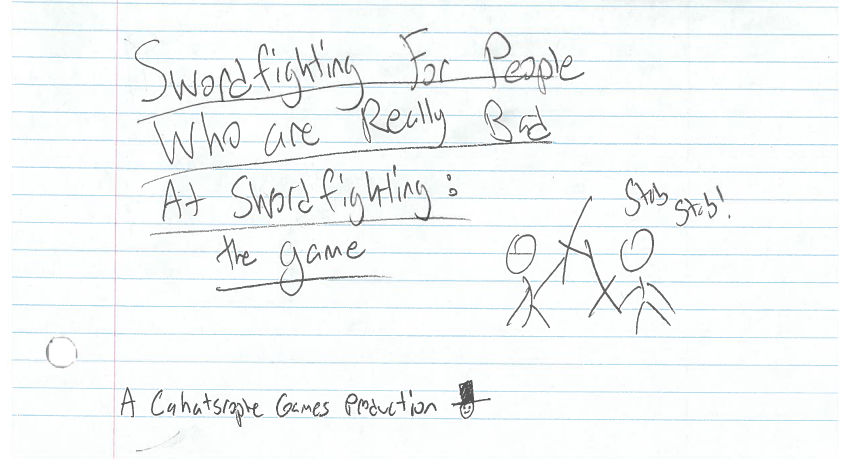 Swordfighting For People Who Are Really Bad At Swordfighting
A downloadable alleged game for Windows, macOS, and Linux
That's right folks, I've gone and done it again! Welcome to my newest and greatest masterpiece, only two months in the making this time. This is Swordfighting for People Who Are Really Bad At Swordfighting, a game for people who are really bad at swordfighting. If you're decent, good, or even just okay at swordfighting, you're not allowed to play this game. Sorry, I don't make the rules.
Why you should download it:
It's free!
It has swords!
It has a plurality of levels!
It's about as frustrating as my last masterpiece!
You've always wanted to learn how to swordfight anyway!
Only has a 1.6% chance of gaining sentience and trying to kill you!
Downloads going up makes me happy!
It might be fun, I mean, how would you know, have you even tried it?
It may have as many as 4 different easter eggs!
It's free!
But don't just take it from me! See what my playtester had to say about it:
"It's very stabby. Good luck not getting stabbed. You're gonna need it." - Tester
I hope you enjoy this game about stabbing people!
Install instructions
Should just run. If not, send me an email at cahatstrophe@gmail.com.
Comments
Log in with itch.io to leave a comment.
i love it. great job. cna i aske you how you made that physics?
Thank you!
The physics is mostly standard Godot engine physics. The characters are RigidBody2Ds held together with Pinjoints. That makes stuff like the ragdoll function easy, because all you have to do is turn off the Pinjoints. Getting the mouse to pull the character required some custom force integration, but it wasn't really any more complicated than defining a force from the hand position to the mouse position.
Good luck with your own coding!