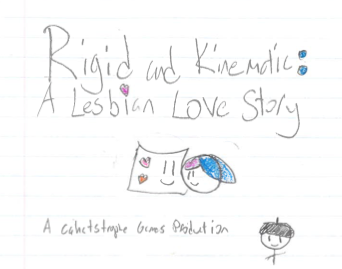 Rigid and Kinematic: A Lesbian Love Story
That's right, I'm back with more garbage physics platformers, and boy howdy have I done it again! This one is oh so very much worse. Previously, I have designed games that were at least supposed to be a little bit fair. Beatable, some might even say. But this time, I have thrown all of that out of the window and used every single evil bone in my body (which is all of them) to make this. This game is fiendishly difficult. You have been warned. Play at your own peril.
Why you should download it:
It's free!
Multiple levels of content, which you could have for absolute free!
It's pretty gay!
It stars lesbians!
It will make you want to throw your computer out of a window!
The fleeting internet fame of watching my download counts go up is my primary joy in life!
It's free!
In conclusion: be gay, do platformers. Thank you for coming to my TED Talk.

Oh, by the way, I've realized that actually literally no one uses itch's follow feature and that maybe I should look at a social media, so I know have a Twitter! If you want to be notified when I do things feel free to follow, or like don't because I don't really care honestly. Anyway, here it is: https://twitter.com/cahatstrophe
Download
Click download now to get access to the following files: